Food Pantry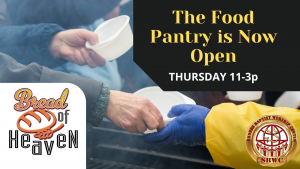 The Food Pantry is open for distribution. We are so blessed to be able to help individuals in need through this feeding ministry. The pantry will be open for distribution on Thursdays from 11:00am – 3:00pm.
How can you help? I'm glad you asked.
We need your help with donations of canned goods and we are still in need of volunteers to help distribute on Thursday's. Please see Lady Melissa Garner or Minister Grace Malcolm.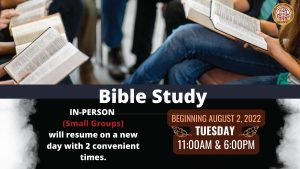 Christian Education
Sunday School is at 9:00am in the Main Sanctuary for all ages.
Bible Study is Tuesday, 11:00am and 6:00pm.
Our new series is titled 'Grace is Greater".  We are excited about coming back together to learn and to grow through the teaching of God's written Word.
New Believer's/Members class (Part 1) will be held on
Wednesdays at 5:30pm for six weeks beginning August 10, 2022.
All new members are required to attend.
Soul Winning Class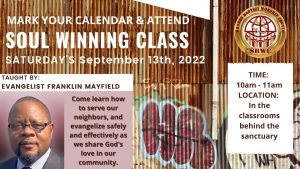 Minister Franklin Mayfield will continue his teaching on "Soul Winning" here at SBWC.  Saturday, August 13 at 10:00am.  (The sign-up sheets are located in the foyer).
In Biblical times, a disciple referred to anyone studying under, and trying to emulate, a valued teacher. To modern day Christians, it means a follower of Christ who leads by following his example.
In John 13:34-35, Jesus says "Just as I have loved you, you also should love one another. By this everyone will know that you are my disciples, if you have love for one another."
Discipleship is a process of not only holding onto your faith but growing in it so that you may lead others toward Christ by your example of love.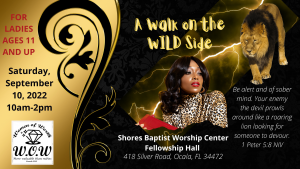 Women of Worth
Our Women of Worth fellowship is scheduled for Saturday, September 10, from 10:00am -2:00pm.
1 Peter 5:8 says, "be alert and of sober mind. Your enemy the devil prowls around like a roaring lion looking for someone to devour".
The theme is "A Walk on the Wild Side". Remember, this ministry is open to all ladies ages 11 and up. We hope you can attend.
Senior Social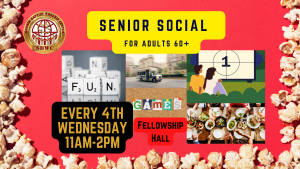 Adults 60+ get together for fun every 4th Wednesday from 11am – 2pm.  Games, activities, movies, excursions and more.  Contact Minister Grace Malcolm for more information.
Tithe & Offering
You can sow your seed into this ministry and here are the five ways:
Online – at sbwc.center through Realm (just click give)
Or simply text sbwc to 73256 followed by your gift amount
The Givelify App
Via mail to Shores Baptist Worship Center, 414 Silver Road, Ocala FL 34472
Or if you are in the Ocala area, you can drop your gift off in person.
Thank you so much for your giving!
JOIN US EVERY SUNDAY FOR WORSHIP SERVICE AT 10:45AM.
CONNECT WITH US via YouTube and Facebook.
SHARE, LIKE, SUBSCRIBE